It's safe to say that my husband and I come from very different sides of the track. His upbringing was firmly upper middle class and my upbringing was firmly skipping class to go to work 'cuz I got siblings and someone has to feed these damn kids.
It was ten years ago this winter, that I trekked up to my husbands beautiful little mountain town to spend Christmas with his family.
But first, a tale from the Ghosts of Christmases past;
I was raised between the foster care system and the streets. Most of my Christmases were spent in the faded lime green or grey walled buildings of mental institutions visiting my mentally ill mother. We used to drink dixie cups of chicken "soup" that came out of the vending machine next to the coffee and hold hands across metal tables, carefully supervised. My mother would give us bright little drawings she made.
Other Christmases spent in children's shelters and homes were more eventful. Socks, toothbrushes, packages of underwear, new sheets, and one year a boombox from the local fire department; my pride and joy. Need-based gifts were the name of the game and there were no complaints from me.
So when I spent my first "real Christmas" with my then boyfriend, now husband, at the tender age of nineteen, I was still fresh from the Christmases of my childhood and totally unprepared for what was about to happen.
May your christmases be white…people. Fucking white people.
With presents reaching well into the branches of the tree and spilling out across the living room, I was excited. It brought out the kid in me, who seriously needed a new toothbrush and couldn't imagine how many could possibly be in there, at least a lifetime's worth.
The beautiful packages made their way around the room and I tore into mine with glee.
That's when I unwrapped my Dora the Explorer backpack.
Shiny and new, I stared at the bright plastic face of Dora looking up at me. A price tag dangled from the the little purple straps, too small to go around my arm. I looked around the room, flummoxed.
The parents unwrapped their giant felt hats shaped like weiner dogs as my husband tore into his shot glasses that had holes in the bottom.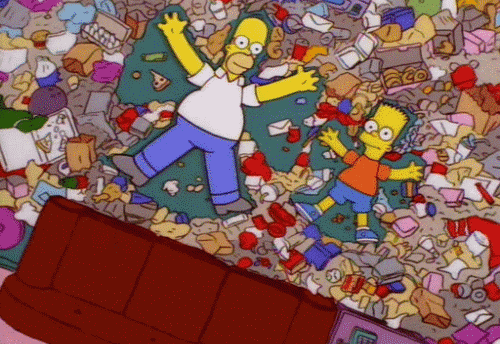 This went on for an hour. SpongeBob Squarepants bowling sets. A penguin blankee that had a funny looking child photographed on the packaging. "He looks constipated," they all laughed.
My husband looked over at me. I can't imagine the expression I must have had on my face. "What's wrong?" he asked.
"I don't understand what is happening," I whispered, flipping my box of Chewbacca flavored gum over and over in my hand.
"They are jokes!" he said.
"Jokes?"
"Yea, you know, gag gifts."
Well that explains the throw-up in my mouth
Suddenly I had entered a world in which there were no needs left, and it left me reeling. I excused myself after the merrymaking and lifted a cigarette from my mother-in-law's hidden stash.
I walked briskly around the well-to do neighborhood puffing on my Winston Light. What had just happened? Why had it left me so ridden with anxiety?
That's when I realized the great generational divide of the millenial. How we were truly the Children of The Recession.
I realized how difficult it was to not qualify these gifts as resources. I thought of the labor it took to make fake dog poo, the oil burnt to ship it from 5,000 miles away. I thought of the $34 for the backpack, the $4 for the gum, the $68 for the SpongeBob Squarepants bowling set and how that was a week's worth of groceries or a student loan payment, or a trip to the dentist.
I realized that "it's the thought that counts" was a privilege not largely known to millennials.
It's a conspiracy I tell you, a conspiracy!
I'm pretty sure gag gifts are a giant conspiracy. They allow people to put no thought into what they are doing or buying, and then hide behind "it's the thought that counts."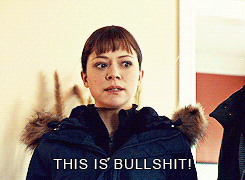 Furthermore, no one is allowed to call bulshit because "it's Christmas" and mindless consumerism and insensitivity is concealed by the "Christmas rule" (or the "Santa Clause," if you will).
Where's your sense of humor?
Firmly intact, I'm proud to say. I like irreverent crap as much of as the next hipster. Last year my sister got a giant care package of dish soaps, sponges, anti-bac, and assorted cleaning products that said, "You dirty dirty bitch" on the label.
But whether you like it or not, we live in a time of limited resources. Whether that is cutting down trees to make your mini-drink coasters, or understanding that 49 percent of people in this country live paycheck to paycheck, Americans are way overdue for a swift kick in the ass when it comes to buying mindless shit.
What you can do instead:
Give a service.
Massages, dance classes, language lessons, pedicures, etc. all put money in the hands of other working class schmucks like us and provide your giftee with a valuable, enjoyable experience.
Find out what they make.
People are makers. Supporting someone's passion, someones artistry, is one of the most valuable and touching things you can do. Someone who gets the gift that supports their passion feels listened to and understood. If you don't know what someone makes, you aren't paying attention.
Find out what they need.
Again, this might actually require you to listen to the people in your life, or even visit them in their own surroundings. If they complain about how the value bottles of VO5 are wreaking havoc on their hair, but they just can't afford Kiehl's, you got yourself a walking talking christmas list.
When they don't need anything:
I'm not trying to shame anyone. Well..maybe a little. I WILL INFLICT MY CHILDHOOD UPON YOU AND MAKE YOU CRY!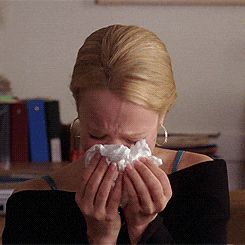 No, really, I think gift giving is great. You don't need to be a monk. Enjoy your indulgences, and enjoy indulging others. I wanted to make a practical list of indulgences that make great gifts for those of you who struggle with the first-world problem of "what to get someone who has everything."
For the outdoorsman or glamper:
These are for the person who enjoys being in the out of doors in the winter months, but not too far from the comforts of technology. They can listen to their music or have a conversation while braving the weather and not have to get freezing cold hands and ears.
For the Chronic Sufferer:
The acupressure mat provides instant pain relief that thousands of people swear by. Useful for headaches, back pain, and stress relief and as a sleep aid, this unique gift can really brighten up someone's holiday.
For the beauty addict:
There are two kinds of people in this world. The kind who never use chapstick, and the kind who are addicted to chapstick. The Marshmallow Treat chapstick is vegan, organic, cruelty free and is just sweet enough to be festive and celebratory, never sickeningly sweet.
---
What useful, thoughtful gifts are you giving this season?