There is a vicious rumor going around that it's the new year. Fake news strikes again. Sad.
Oh wait… Shit… It is the new year.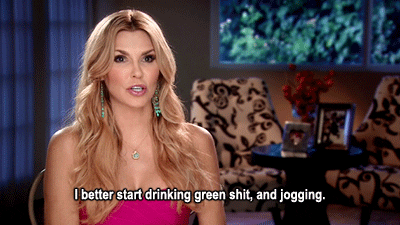 Well, I guess that explains the recent tsunami of articles about "How to Go to the Gym," "How to Keep Going to the Gym," "How to Get to the Gym," "How to Stay at the Gym Once You Get There," "How to Not Just Buy a T-Shirt From the Gym That Says, 'Namasté Fit' and Then Never Return," etc.
Yes, people descend on the gym on new years like people descend on the grocery store at news of an approaching storm.
Sure, you don't like spam or tofu flavored popcorn or the bench press but this is an emergency, goddamnit! You will pay the $9 for the blood sausage, the $90 a month for the gym membership, and you will just wait for the storm of expectation to pass.
Oh, fuck the gym. Fuck the gym so hard. (Note: my traffic soars any time I use the word "fuck" in the title of a post. "Fuck High Heels" is my most popular performing post by like a million disappointed perverts.)
My big new year's truth bomb is pretty obvious, yet one of those things that is so easily forgotten:
exercise and the gym are not mutually exclusive.
Now for a disclaimer, because I know there are at least 1000 of you shaking your heads right now. You are poised to praise the pure joy and peace, the triumphs and great personal satisfaction that comes only from working out at the gym. Of those 1000, 980 of you are kidding yourselves.
Maybe you are genuinely the exception. Perhaps you love squats and delight in the treadmill and are brought to joy on the bench press. It's not just something you tell yourself you love or know is good for you, therefore worth it. You fucking love it. If this is you, that is awesome. (I'm not jealous, you're jealous! Shut up!)
Now that we have weeded out the joyful gym rats, let's talk about you. You want to be tight, toned, and, flexible. You want all the benefits of going to the gym, but you don't want to go to the gym. Regardless of this, you may go (regularly even) and you might keep it up for a month, maybe two, or longer.
Regardless of whether you can be a good, disciplined greyhound and go regularly, or you consistently "let yourself down," I am here to propose something to you that will change your life, if you let it.
The physical activity you find beautiful is the one you need to start doing
For me, that thing is swing dancing.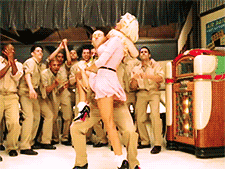 I always thought it looked so classy, so fun, so magical. Learning it has been the absolute best thing I have done for my body. I can clock two hours of aerobic activity without breaking a sweat. No, just playing, I get sweaty as balls but I don't even care.
Beyond feeding my passion, swing dancing has built-in high intensity interval training because you take a breather between partners and it has a wonderful, fun community, which always keeps me coming back. I know that my money goes to supporting local instructors and business owners and not some mega gym, plus I can drink and wear fake eyelashes while I incinerate calories and tone my legs. Sustainable AF.
Feeling motivated? I bet you are!
This new year, find the the activity you can keep up with, the one you can commit to. The activity that looks like magic to you is the one that will heal your body, promote your happiness, and protect your brain. That is the activity that will never feel like work and fill you with joy.
Now you might say to yourself, I don't have anything that speaks to me. I've made a list of common activities that drive people's passions. I bet one of them will call to you. Maybe you know what it is already. If you do, I recommend taking that $60 to $120 a month you spend not going to the fucking gym and toss it towards the thing that your body truly wants you to do.
Swing dancing
Tango dancing
Salsa dancing
Belly dancing
Ballroom dancing
Yoga
Tai chi
Martial arts
Boxing
Biking
Soccer
Skateboarding
Aerial silk
Pickleball
Ultimate frisbee
Golf
Horseback riding
Swimming
Lasertag
Hiking
Juggling
Fencing
Tap dancing
Ice skating
Rollerblading
Volleyball
Roller derby
Training for American Ninja Warrior
Letting go of your gym membership does not mean you have let yourself go.
It means you are finally beginning to recognize that moving your body should not be a chore, but a way to express the thing that brings you joy.
---
Check out January's awesome bloggers in the sidebar!