"Life is 10% what happens to you and 90% how you react to it."
– Charles R. Swindoll
Charles is treading dangerously close to republican waters, which is actually a frozen lake where if you fall in, you are fucked. But Damn, Girl is going there.
The fact of the matter is it's hard not to let the shit that happens to you and the shit that has happened to you affect your decisions for the worse.
There, there. Mama understands. Life is hard. We're all getting beaten with shovels and felt up in cars and miss the semi annual sale at Victoria's Secret. Life is just traumatizing AF. But this blog is about activating and harnessing your power, and to do that, there's some shit you are going to have to let go.
Here are five things it's time to get over:
1. Herpes
Herpes: that thing you get in your early twenties that makes you think no one will ever want you, you will never find love, and you will have to settle for a rat right off of a plague ship if you ever want to birth bumpy children.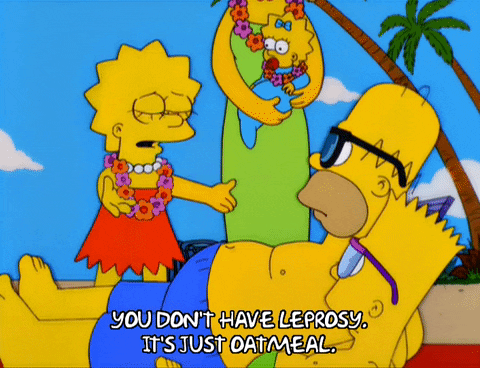 Yeah, no one wants it, but everyone has it. While you should take the necessary precautions to avoid passing it on, and the self care to minimize your outbreaks, it shouldn't be something that affects your self esteem.
The stigma around herpes isn't what it is in your head, and no one is judging you.
Speaking of: don't make herpes jokes if you aren't a carrier. If you are in the company of another human being, chances are good they have it. You could be reinforcing someone's decision to stay in a bad relationship or not pursue the person they love which are pretty big consequences for a bad joke.
2. Not getting physical activity because you were teased in high school gym class
I know, it was fucking awful. You were standing there in your dirty Wal-Mart hand-me-down shoes, watching everyone get chosen for the dodgeball teams before you. The team captain who got stuck with you actually groaned, "Ohhhhh mannnn, not 'The (insert odd yet cruel nickname some kid named Travis gave you that fucking stuck).'"
That shit is over and joining a zumba class, buying a bicycle or starting speed walking is not the same thing. God knows that I know our trauma follows our asses around but it is time to get over that shit. Don't let the Travises of the world keep you from finding a physical activity you love. (Seriously, fuck that guy.)
3. Radon in your house
You grow up and find your dream house, or at least one that you are pretty sure won't get broken into too often and you put in an offer. Congratulations, you sexy adult! But you're not really an adult are you? No. You just wear adult-sized clothes. But that doesn't help you out at all, and honestly you still find most of your clothes in the juniors section….anyway, you don't know shit about houses and when your inspection comes back with RADON, You. Freak. The. Fuck. Out.
Radon is not that big of a deal. I know you are picturing this semi-wet, green, noxious gas poisoning you in your sleep. No no no. It's not. And it's not house cancer. It's not this long and unreliable treatment process where you are never really sure if it's gone. A company comes and puts a fan in. It tunnels outside of your house, and your levels will test better than houses with no radon mitigation system. If you aren't in the housing market yet, remember this post for later, because things you never thought you would find interesting become so when you start looking for some real estate.
This goes for all super adulty problems. If you are having an issue with your house, car, business, etc, there are 12 people within 2 blocks of you who have been through it before. Where there is a problem, there is almost always a not so terrifying solution.
4. Not treating your anxiety and depression because you are afraid of what it might mean
Whether that means not going to therapy or not taking an antidepressant because you are afraid that means you are crazy, let me put your fears aside.
You are definitely crazy.
But so am I, and so is that person you think has a perfect life. We're all fucking nuts and it's time to stop letting that shit disrupt your life. If your anxiety or depression is keeping you from making it to work, going out with your friends, getting a good night's sleep, or eating away at your self esteem and you've tried all that hippie shit, get yourself some crazy pills.
Along those lines, it's time to get over the fear of medications.
I know that there is a lot of bad press out there about meds. But taking them has made a night and day difference for millions of people. I know there is a lot of bad info out there but please keep in mind that "My serotonin levels were on the floor, I took some prozac, I feel better" isn't quite the headline maker as "PROZAC WOMAN MURDERS BABIES, EATS HUSBAND, DESTROYS PRICELESS REMBRANDT."
Most people who take an antidepressant feel better. And if they don't, they get some shitty side effects, and then stop taking them and return to their previous state.
5. Your credit score is not a terminal condition.
Having a shit credit score is not like having an F in math, four days before the end of the semester. It's like having an F in math a week into the semester.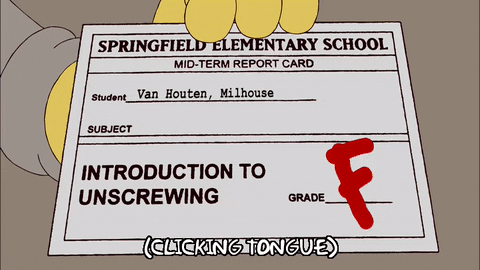 Sure, it's anxiety-inducing and you have to get your shit together but you have time. Life is the the math class you are in until you die…. Don't you feel better?
Stop hiding from your credit score. A terrible one can be fixed and once you start sorting it out, it is not nearly as bad as you think it will be.
---
What are you letting loom over you? What was a lot easier to deal with than you thought? Share with the DG army and you might just help someone.