What can I say about Leo, mi amore? He is the best bad cat ever. That's not to be confused with the best cat ever. There is a very important distinction.
The best cat ever might not tip over their litter box, kick all the litter into the space between the washer and dryer, then crap in the empty box.
The best cat ever might not tear the shower caddy off the wall and eat ¾ of a bar of oatmeal soap and throw up bubbles for two days.
The best cat ever might not knock over a $30 canister of leg wax , step in it, become adhered to the carpet, and then howl like a crazy person at 4 o'clock in the morning, not because he is stuck, but because he was planning on getting stuck in the cords to the blinds like some horrifying cat-marionette and wasn't planning on getting stuck to the carpet till next week.
But the best bad cat ever totally would.
Leo, the bunny king, the pleasure pig, the bad little cat man… he cracks me up every single day.
I say that Leo is the best bad cat ever because he is still alive in my heart. I should say that Leo was the best bad cat ever. He died this week.
My heart aches. My home feels strange and empty. I keep going to feed him and have to stifle calling for him. Creatures of habit and all…
I have to believe there is a lesson of great value to learn with all heartaches, with all pains. And as blurry-eyed, as I am, I want to do the most loving thing I can for you and yours. And for me, because I am really writing this one for myself.
I felt so guilty putting my beloved bad kitty down. There was the pressure from the vet and an entire lack of support to be found anywhere, not in real life, not online. So today, I wanted to give you something I didn't get:
Today, I am giving you permission to put your pet to sleep.
Here are five obstacles you may be trying to overcome:
1. You can't afford it
There is no guilt like the one that comes from not having the money to take care of something that you love. If you can not afford to provide your pet with a life-saving treatment, you can't afford it. In a perfect world, we would all have unlimited resources but we don't.
I always advocate adopting a shelter pet because you extend their life to more than what they would have had, and that is something you can feel good about long after they are gone.
2. You can afford it… technically
Strangely, this can be even more stressful. My close friends lost their cat about 6 months ago and seeing what they went through, and what they put their cat through because they could just barely afford treatment, was such a lesson.
Their 12-year-old cat, "Murphy," had lost consciousness one morning and after a trip to the emergency vet and was diagnosed with a softball-sized tumor pressing on his lung.
The vet told them the cat had to go into surgery, which he had a sixty percent chance of surviving.
Four days of labored breathing later, Murphy underwent surgery. True to his namesake, everything that could go wrong went wrong. He suffered intense complications. Hours after the operation, the hospital informed my friends that he would have to undergo another surgery at an out of state facility the following week. He would need to be kept in the hospital until then.
One long car drive and two lethargic weeks later, Murphy was again found unconscious. My friends rushed him back to the vet and were informed that there had been complications from his second surgery and he would need to return to the out-of-state hospital. There, they discovered he would have to have another surgery.
In the end, Murphy underwent five surgeries, four out-of-state trips, and $18,000 in medical treatment. He spent the last six months of his life on the road,  in a cage, in the hospital. He was repeatedly stuck with needles, pumped full of IV fluids, catheterized, and put under anesthesia. He died the way he had lived the previous six months: painfully and in a strange place.
Just because you can afford it, doesn't necessarily mean you should do it.
3. They would be in extended pain
Leo had oral cancer. I could have had all of his teeth and part of his jaw removed. I could have started him on chemo.
But Leo was a creature who lived in the moment. He was the ultimate hedonist of the animal kingdom. He couldn't understand that a lot of pain and discomfort might make him live longer. He would only know that he was in pain. Would subjecting him to months of discomfort for a small chance at a slightly longer life really be for him, or would it be for me?
4. They are old
There is a huge societal pressure to keep our pets alive as long as possible. It is so easy to project our own fears of death, our own sense of what life means, and our own desires and goals onto our pets.
Leo was old and he wasn't hanging in there waiting to see his grandchild being born. He wasn't trying to finish that book he promised himself he would write.  Although I am sure if he were to write one, it would be a cookbook called The Delicacies of Crickets, Grasshoppers, and Large Pieces of Scrap Fabric.
He was a happy agent of chaos. He was a powerful, old beast and I couldn't take that away from him. What I could do was not project my goals and desires onto him. He had a beautiful life filled with anarchy and it was over.
5. You can do right by them
We got him high on catnip and snuggled his beautiful, evil little face as the vet put him to sleep in the comfort of his own bed.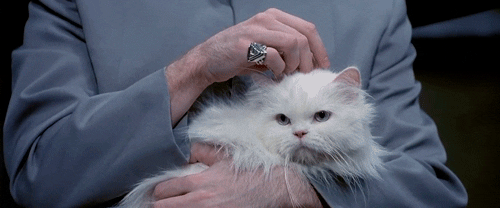 Some might be horrified that we didn't do everything in our power to prolong the life of our cat. But in my heart, I know I did right by him.
I wanted to give you the permission that I didn't get.
I give you the permission to love your pets enough to put them to sleep.
Check out this month's Awesome Female Bloggers in the sidebar and let DGGYST know if you want your blog featured.