Spring is right around the corner! Better weather, new beginnings, and for many of us, it means a lot more social, work, and family responsibilities. If for you that translates into outright panic or good old-fashioned stress, here are three great strategies for when you are freaking the fuck out.
1. Focus on the event after the thing that you are dreading.
When it comes to an impending dreaded meeting, appointment, interview, or colonoscopy performed by your high school crush, humans have a tendency to put that event at the end of time.
It is so easy to lose perspective when dealing with an upcoming anxiety-inducing situation. The dreaded thing becomes all there ever was, is, and will be. When we don't acknowledge that something will come after an anxiety-inducing situation, we magnify its importance. It becomes the ultimate destination, the final sentence into your own personal hell.
By recognizing that life will continue to go on immediately after the end of the dreaded task, perspective is re-established. You will take bubble baths, cook dinner, watch Black Panther, and go shopping.
Try focusing on the thing you are doing later that day in great detail. You have already come up with all possible scenarios in which that meeting with your boss involves you insinuating that she smells, that she once dated your cousin, and then ending abruptly with you saying "I love you" instead of "Goodbye." Focusing on what comes next is one of my favorite strategies for getting through tough times.
2. Take your crazy pills.
It's almost hard for me to remember what my problem was with antidepressants. I know I had it in my head that there "had to be a better way" and I was very much set on that. I have panic disorder. It started when I was in my mid-twenties after a back injury and I was so dead set on defeating it that I threw away six years of my life. I tried everything… and I mean everything. I eliminated dairy products and meat products and alcohol and sugar and caffeine and joined yoga and kickboxing and pilates. I started meditating, running, dry skin brushing, seed cycling, fasting, cryotherapy, talk therapy, water therapy, acupuncture, massage… literally I could go on for pages, all to no avail.
Don't get me wrong, that stuff is fantastic. My ass was up to my elbows and my skin never looked better but hot, terrible waves of fear would continue to grip me while I was at work, the supermarket, reading a book, or watching TV.
Why didn't I fix my serotonin problem sooner? I know I totally bought into the five stories in all of history of someone trying Prozac and then eating their offspring, throwing their feces into oncoming traffic and then killing themselves (that's what happens, right?). I remember thinking that despite knowing antidepressants made a night and day difference for literally millions of people, it wasn't going to work for me. I remember that doing this on my own was the most important thing… I just don't remember why.
It wasn't until someone very close to me who shared all my notions about "health" started taking Zoloft that I changed my mind. I saw the change in her and it gave me the courage to challenge my long-held beliefs about SSRIs.
Now I take a little pill in the morning and I don't have panic attacks anymore. I eventually figured I didn't have any offspring to consume so I might as well try it. I don't experience any side effects and I live the life that I want to live.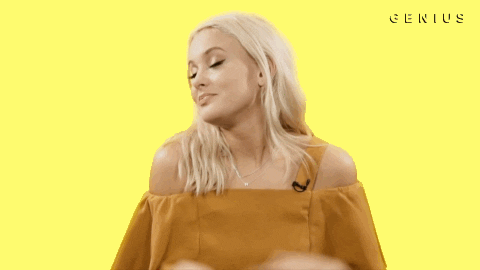 If you have been regularly freaking the fuck out for more than six months, see your GP.
3. Absolve yourself of responsibility
One of the mechanisms of panic is the fight or flight response.
When I first started having panic attacks, it was sitting in restaurants that unnerved me the most. I wasn't a diner, I was a captive of Joe's Crab Shack, endlessly tortured by slow waiters holding my check hostage and mocking me with their dinner specials.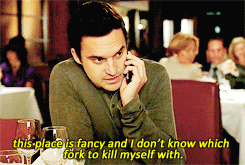 I became obsessed with all the things I could "do" to stop panicking. I could have cold water and peppermint and do math problems backward. I had a million excuses lined up for why I had to dash from the restaurant like a woman on fire. Then I read an article that said when it came to panic attacks, it wasn't my responsibility to do anything.
Panic wasn't some fussy baby that needed to be burped, fed, and changed. It was going to happen and pass regardless of what I did. It was none of my business. It wasn't my responsibility to serve it.
Caring for yourself should make you more resistant to stress and pressure, not less. There is a huge difference between taking care of yourself and letting stress make you it's full-time maid.
So if your self-care rituals are less about making you stronger and more about pacifying your freak outs, consider dropping that responsibility.
I hope for a magical and warm spring for all of you, filled with creativity and love and manageable stress. Share what you do when you are freaking the fuck out in the comments below. You might just change someone's life.