You're a little witchy, aren't you? You mystical huntress. Maybe not all the time but on occasion, when you are very lucky, you will step in exactly the right place and find a supernatural force that seeps up through Mother Earth till it finds the soles of your feet and lets you know: life is pretty magical and so are you.
This is our favorite feeling, isn't it? Feeling attuned to the hedonistic unknown? That full moon, warm summer night, stolen kiss feeling? Mmmmmmm, Magical Calgon take me away.
I want to talk about cultivating that witchy spark in your home. How to feel like you live in a faery castle, or deep in the woods surrounded by healing waters, or in a white curtain-lined sex yurt complete with a naked Witcher. I also want to teach you how to do it without turning your home into a tacky head shop which, let's face it, is your worst fear.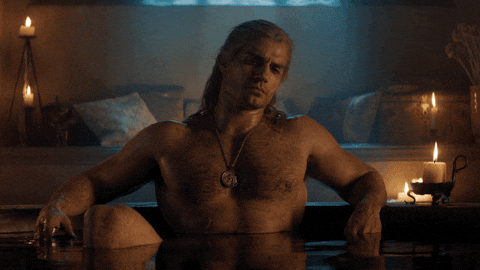 Decorating has never come naturally to me. I am drawn to overly feminine pieces or trendy garbage that never translates into my own life, and I tend to quickly turn on patterns and colors, first welcoming them into my home, then quickly becoming skeptical, and eventually loathing them. Before I know it I find myself once again burying a vase in my backyard in the dead of night, sobbing that it was an accident, that next time it will be different. The vase won't betray me. I'll love the vase. We'll be together forever.
If you are like me, and it's important to you to have an environment that fosters creativity, sensuality and a little bit of magic, I have some trend-free tips for you that should keep you out of the acquire, love, loathe, kill cycle.
1. Natural textures
I read some study in some place, I'm pretty sure (or maybe it was a dream) that we are still kindred with man's first materials. According to this study I may or may not have made up, things like ceramics, baskets, wovens, and tapestries are deeply recognized in our ancestral psyche as comfort and luxury.
I recommend starting small: a fur throw over the back of a chair, a woven basket nestled under a side table, or some throw pillows made from linen in a neutral, unprocessed color will add that ancient human-ness to your home that you will be hard-pressed to turn against.
2. Plants
Delightfully gender-neutral and genuinely alive, plants quite literally breathe fresh air into your space. It's hard to hate a plant. Except for the peace lily (fuck those guys). Finding some greenery will bring the best of the magical outdoors inside. For the plant-killers among you, Chinese evergreen, snake plants, and cactuses are pretty much indestructible. Pop them in a ceramic vase and get double witchy points.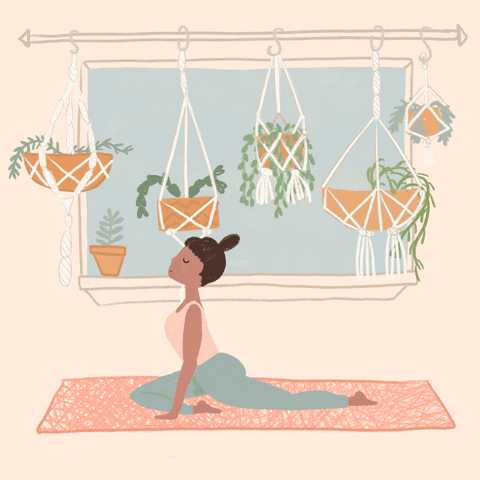 3. Trays with all the head shop shit your heart desires
I think even the most pragmatic among us all want a little magic in our homes. We tend to let it in through the TV, our little visual portal to a place we would rather be, because we don't trust ourselves not to turn our living rooms into Narnia.
Enter the tray.
A mirrored tray is the perfect way to let your inner wizard run wild… in a nice, controlled environment. A dog park for your inner wizard… yeah, let's' go with that….
I love filling a lonely shelf, large coffee table, or overly large window ledge with a decorative tray. A few mismatched little glass bottles, an amethyst candle holder, a succulent, and a random teapot will make look it like you are ready to cast a love spell or better yet, summon a demon to terrorize your village and destroy Goody Marshall's bean crop in a moments notice.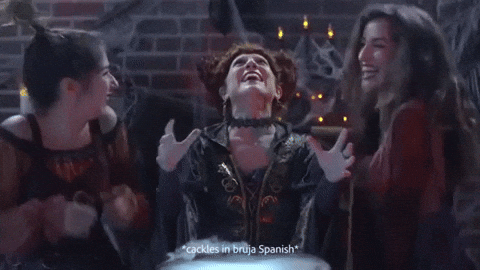 4. Candles and their holders
Have you placed a candle in a Himalayan salt votive? My goddess, talk about ambiance. I have a belief that when it comes to creating a truly enchanting space, you cannot have too many candles. I go for unscented tea lights, votives, and tapers in every thickness and length I can find. I also like a nice mix of black and white.
Salt, amethyst, quartz, any gemstone or salt votives will reflect a supernatural glowing light into your space. Don't relegate your candles to the bedroom. I generously distribute them in every room of my house.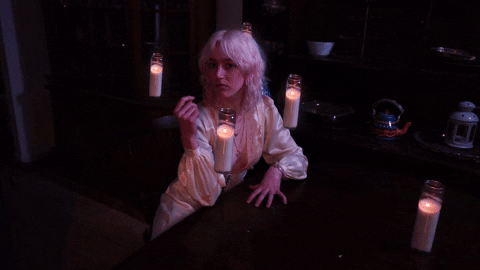 5. Curtains that graze the floor
Those billowy, red, thick velvet curtains spilling to the floor in your favorite vampire noir movies translate surprisingly well to your house in real life. Probably don't go with red (or you know, do you), but a nice heavyweight curtain a few inches longer than you would think you need grazes the floor in a very romantic way.
---
Try some of my witchy tips and harness that magical atmosphere for yourself. Subscribe to Damn, Girl for more lifestyle tips, recipes, beauty secrets, and relationship advice. See you soon!