You know those exorcism movies where the possessed person is tied to a bed and they bring a priest in and the demon expert is like, "Whatever you do, do not cross the salt boundary," and then the possessed person is like, "Ahhh, you like Honey Bunches of Oats, don't you, father?!" and then the priest leaps across the salt barrier and is like "YOU KNOW I LIKE RAISIN BRAN! YOU SICK FUCK!" and the demon bites his ear off?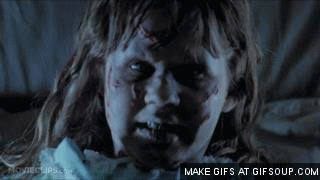 And then they drag the priest out of the room and they leave the mother of the possessed person in the room alone and then the demon is like, "Oh hello, motha! You know your lilacs are not going to bloom this year, don't you?" and then the mother leaps across the salt boundary and is like, "I BOUGHT THE EXPENSIVE FERTILIZER!" and then there goes one of her ears, you are like, "For gods sake, stop letting this demon manipulate you! Don't cross the fucking salt boundary, what did he just say?!"
Yeah, I love those movies. I am always so judgmental, shaking my head at these morons taking the bait. I would never cross the salt boundary. Then my mother will call me and say, "You know everyone feels sorry for your husband," and I will be like "AHHHH!!! FUCK THIS SALT BARRIER, I WILL KILL YOU!"
Today I want to talk about toxic relationships.