It is my sincerest hope that this post doesn't resonate with most of my readers. I hope you can wake up in the morning, brush your teeth, pour yourself some joe, and work a long and productive day at your nine to five job, five days a week until you die… at your desk.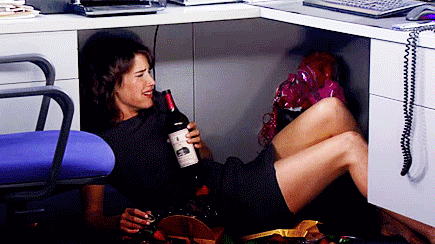 But I wanted to put a resource out there for my readers who have bouts of "I am just too fucking crazy right now to work a real job." Because despite what we may think, it happens to the best of us.
I have very good mental health. I wake up happy, I don't experience any kind of explosive emotions (unless, of course, I see dogs locked in hot cars or someone chewing really loudly then, naturally, all bets are off). For the most part, I'm a pretty stable Sally.
That being said, all of my immediate family members are severely mentally ill. Like, screaming-at-mailboxes-and-threatening-to-kill me mentally ill. I also have PCOS and when I have that perfect combo of "daddy is stalking me again" and "I'm five weeks late for my period," sometimes I get too fucking crazy to work.
I have had times in my life where my family situation, my health, or my work situations have been too much to endure. I have left jobs because of sexual harassment so bad I would have felt safer on the set of "Good Will Humping." During those times, the idea of putting on a cute outfit, getting a Starbucks, and talking with all the scary people has left me noping right the fuck out of my job. But that's the thing about life: crazy or not, you always gotta have that sweet cash to pay those not-so-sweet bills.
So what do you do when you just snap? Your fibro or anxiety or piece-of-shit boss force you into the world of unemployment? How do you pay the bills when you've had it with the nine to five, and it's had it with you? Luckily, DG has you covered.
Here are seven things I have done for money at my nuttiest:
Continue reading "How to Make Money When You Are Too Crazy to Work" →