There is a vicious rumor going around that it's the new year. Fake news strikes again. Sad.
Oh wait… Shit… It is the new year.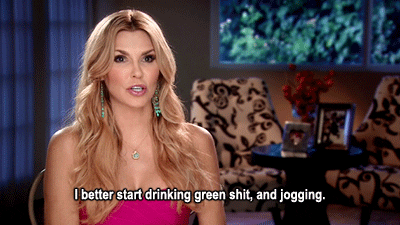 Well, I guess that explains the recent tsunami of articles about "How to Go to the Gym," "How to Keep Going to the Gym," "How to Get to the Gym," "How to Stay at the Gym Once You Get There," "How to Not Just Buy a T-Shirt From the Gym That Says, 'Namasté Fit' and Then Never Return," etc.
Yes, people descend on the gym on new years like people descend on the grocery store at news of an approaching storm.
Sure, you don't like spam or tofu flavored popcorn or the bench press but this is an emergency, goddamnit! You will pay the $9 for the blood sausage, the $90 a month for the gym membership, and you will just wait for the storm of expectation to pass.
Oh, fuck the gym. Fuck the gym so hard. (Note: my traffic soars any time I use the word "fuck" in the title of a post. "Fuck High Heels" is my most popular performing post by like a million disappointed perverts.)
My big new year's truth bomb is pretty obvious, yet one of those things that is so easily forgotten:
exercise and the gym are not mutually exclusive.