"We are in the business of being women."
-DGGYST
DGGYST has been pretty heavy on the girl power lately. With "The Power of Female Economy", and "So, You Want a Blogging Tip…", not to mention the sidebar featuring specifically female bloggers, I have to address something that comes up every time I (or any one else for that matter) discuss supporting female industry. This sentiment:
"But I don't like other women."
I notoriously love the women. I was a labrador retriever in my last four lives and just assume everyone is my friend and they want to feed me biscuits.
Not that I haven't not liked some women. There've been a few where I'm like, "You are not my kind of lady. Now give me a biscuit and get the hell out of here, bark bark bark bark bark!" So I respect that you may have had bad experiences that are skewed to the female gender.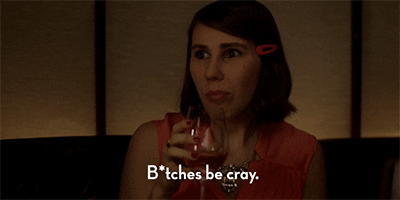 Perhaps you have found other women to be largely competitive, shallow, two-faced, and smelly. I would never tell you that I know your experiences better than you do, and this post is not about bashing women who don't like women. But I will tell you that not liking other women shouldn't matter when it comes to throwing your unbridled support at them.
Continue reading ""But I Don't Like Other Women" and Other Immaterial Things" →