I am a very physically affectionate person. If it were socially acceptable I would introduce myself to new people by biting at their stomachs and nuzzling their neck.
Almost every week I swap full-body massages with my girlfriends. I kiss people goodbye and hello and my poor husband has bald patches all over his otherwise hairy body from being love-nuzzled.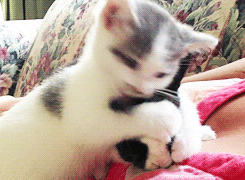 I think one of the saddest lessons life teaches us is to not let ourselves be touched. Men learn not to "be gay" and women learn, often through experiences with sexual assault, to be afraid.
With introversion finally getting its time in the limelight (calm down introverts, you can have the limelight on you and still hide under the stairs in the dark) and every talk show host/therapist/blogger talking about setting your boundaries, it is easier than ever to not let yourself be touched.
To touch is to trust
Yes, I think you should challenge yourself to let someone touch you. To touch is to trust. I think it is something worth working on. And I know no one else will tell you this because you are scary with your thick outer shell of scales and that look on your face like you've seen some shit. But I'm gonna because mama loves you and knows what's best.
In all seriousness, I get it. Once you've been violated, not touching and letting yourself be touched is not only the instinctual thing to do, but it is easy to tell yourself that those feelings should not be questioned, ever.
So let's prod at that sensitive area. Today I want to talk about how to touch and be touched when that's the last thing you want to do.
Continue reading "A Touchy Subject: How to Work on Being Touched" →